Sensible Heating & Cooling is both owned and operated locally. Owner Dan Schmied began the company in 2007 partially to create a great workplace that offers a strong work/life balance. While many contracting companies have an atmosphere of work-only, Dan and the Sensible team have created an atmosphere of work hard/play hard that is perfect for those that love the Colorado lifestyle.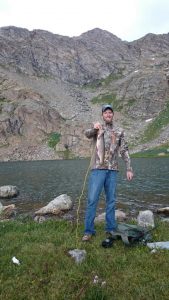 In August, Dan and the Sensible Heating & Cooling team enjoyed a day of fishing in the Colorado mountains. All of the employees at Sensible love the outdoors, and plan trips to take advantage of all that Colorado has to offer, including hiking and fishing.
If you are looking for a great workplace that promotes a healthy, active lifestyle and offers the chance for you to work with a team of like-minded people, call or email us today. Our workplace is fun and rewarding, and we are hiring individuals who enjoy Colorado and the outdoors as much as we do. Call us at 720.876.7166 or email Phil at phil@sensibleheat.net today.