After spending almost 20 years in the HVAC industry, Dan Schmied founded Sensible Heating & Cooling in 2009 based on his commitment to the alternative energy movement and to providing consumers in Colorado with an accessible and affordable avenue to utilize technologies such as geothermal, solar, and heat pumps within their own homes.
In addition to alternative energy, our staff has extensive experience working with traditional heating and cooling systems such as furnaces, boilers, water heaters, and air conditioners. We provide installation and repair for a variety of systems, and we are committed to providing excellent customer service each and every time.
Sensible Heating & Cooling is NATE Certified and an accredited member of the Better Business Bureau. For more detailed information on alternative energy solutions, please check our other website:
www.coloradogeothermalheat.com
MEET THE SENSIBLE TEAM
Dan Schmied – Owner
Dan Schmied is proud to be a Colorado small-business owner. He has turned his passion for alternative energy into a business and is thrilled to provide nontraditional heating and cooling solutions to homeowners. Sensible Heating & Cooling is a leader in the industry because of Dan's commitment to excellent customer service. Dan Schmied carries his Denver Master Mechanical Certificate and was recently certified to work on Uponor home control systems.
Aaron Small – HVAC Apprentice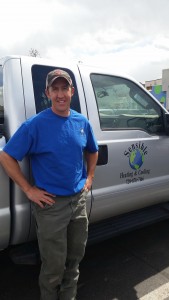 Aaron grew up on a farm in Pennsylvania and moved to Colorado in 2007. He currently lives in Littleton with his wife, son, and daughter. Hunting is his favorite hobby.
Aaron was new to the industry when he joined the Sensible team, but he has proved himself an extremely fast learner and has quickly made himself indispensable. Aaron provides fantastic customer service as well as careful attention to every aspect of his work.