Here is our annual PSA about scheduling your air conditioner maintenance. An air conditioner tuneup is an important part of keeping your system running smoothly and efficiently for as long as possible.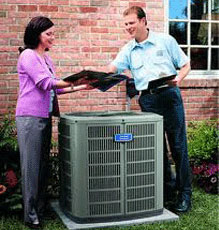 Here's what we do during each air conditioner tuneup:
A thorough cleaning. Dirt and debris tend to build up on the unit over the course of the winter, so we make sure to get in all the nooks and crannies to keep the AC in tip-top shape.
Check for freon leaks. This can be dangerous as well as a sign that your AC is on its last legs.
Check for other damage or issues. If we can catch a problem right at the beginning, there's a better chance that we'll be able to repair rather than replace the whole unit.
If you do end up needing a new unit, remember that you can take advantage of Xcel Energy's rebates as well as our 18-month, zero-interest financing. Call us today to learn more: 720.876.7166.